Getting a team together
​Who we are looking for :
---
A skilled 3D Modeler, Texture Artist, and Animator who:
+ has a high level of communication skills
+can work quickly and skillfully
+ create 3D models from concepts
+ can create textures and materials for and in the Unreal Engine 4.18
+ can rig and animate for the Unreal Engine 4.18
---
Talented C++ programmers who:
+ are experienced in Visual Studio 2015
+ have a firm grasp of the Unreal Engine 4.18
+ able to navigate and use Github ​
---
An amazing Social Media and PR expert who:
+ can maintain the companies social media sites like Twitter
+ is able to create posts and respond on those social media sites
---

​​If you are interested in helping out send us an email: office@alkainindustries.com

[ Please Note ]
In Subject line write what position you are looking for and your name i.e.:
" C++ Programmer for UE4 - Zach Aars "

In the body of the email write your cover letter with any other important information.
Attach a Resume or Portfolio (preferred) that you would like reviewed.


[ NOTE: If you would lie to help out or volunteer applications are always welcome. ]
Powered by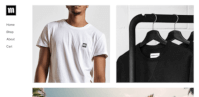 Create your own unique website with customizable templates.